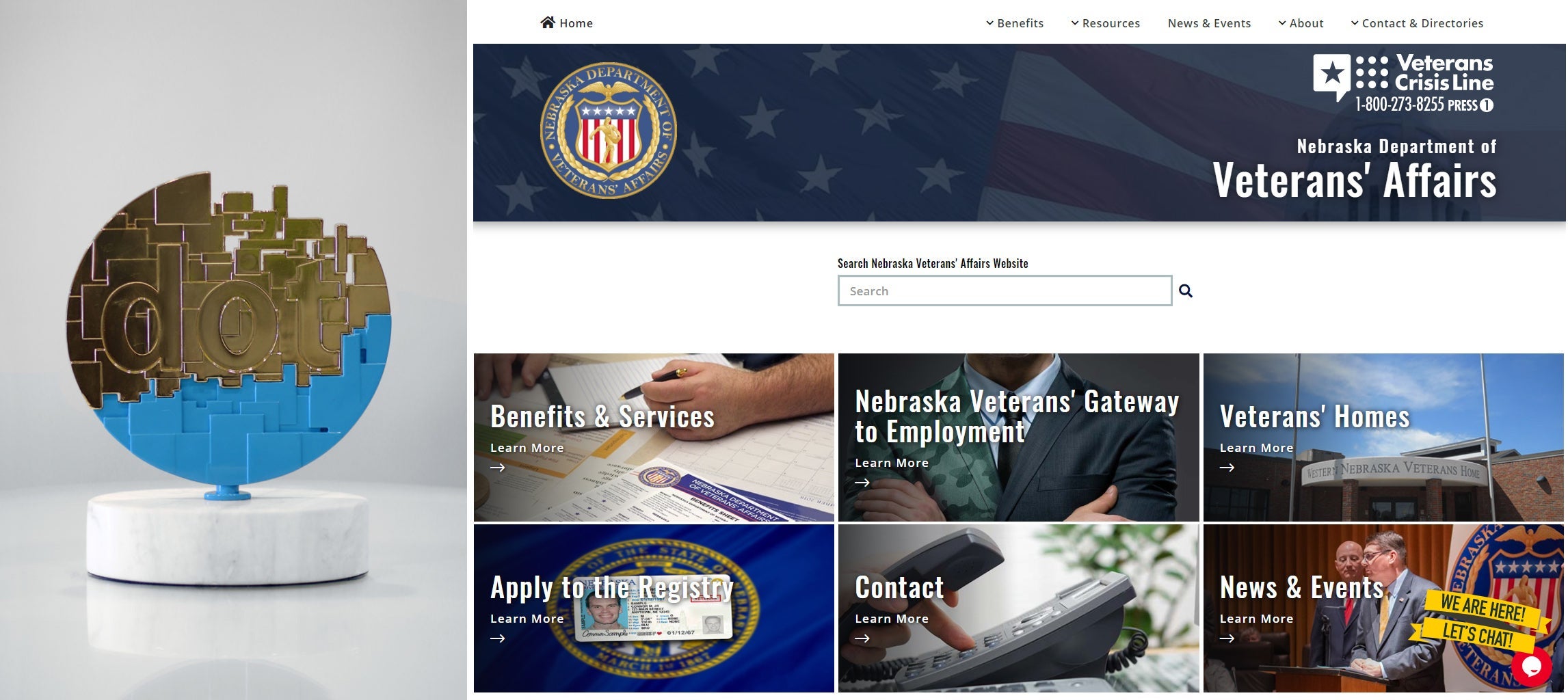 The Association of Marketing and Communication Professionals (AMCP) has awarded the Nebraska Department of Veterans' Affairs (NDVA) the dotCOMM Gold Award for the official agency website, veterans.nebraska.gov. 
The NDVA website, developed by NIC Nebraska, a part of the NIC division of Tyler Technologies, Inc., received recognition for making benefits and services more easily accessible to the state's veterans. Using new and innovative technology, the NDVA website helps streamline veterans' ability to connect with the agency and makes navigating available benefits more efficient.
"The Nebraska Department of Veterans' Affairs is excited and honored to be recognized by the dotCOMM Awards for our achievements on the NDVA website," said NDVA Director John Hilgert. "Our mission is to serve Nebraska's veterans and their families and our goal is to do that as effectively and efficiently as possible. Our revitalized website makes it easier than ever to navigate the myriad benefits and services available and connect with members of our team to ask questions and get assistance in applying for those benefits."
The NDVA website offers veterans a wide array of services and information in a centralized, easy-to-use platform. Veterans can access a suite of employment tools, view statewide mental health resources, and easily sort through federal and state benefits and services. Additionally, veterans can communicate directly with an accredited state veteran service officer using the new live chat function on the website, allowing them to get any service offered at the physical state service office through a virtual visit.
The dotCOMM Awards is an international competition honoring excellence in web creativity and digital communication. Winning a dotCOMM award signifies to employers, clients, prospects, and competitors that the winner's web and digital work is among the best in the industry. The dotCOMM Awards is administered and judged by the AMCP, one of the largest, oldest, and most respected evaluators of creative work in the marketing and communication industry.
"The NIC Nebraska team is proud to share this recognition with the Nebraska Department of Veterans' Affairs," said Brent Hoffman, general manager of NIC Nebraska. "This project is a great example of how collaboration between NIC and our state partners can result in added value to the citizens of Nebraska."
###

View press release.