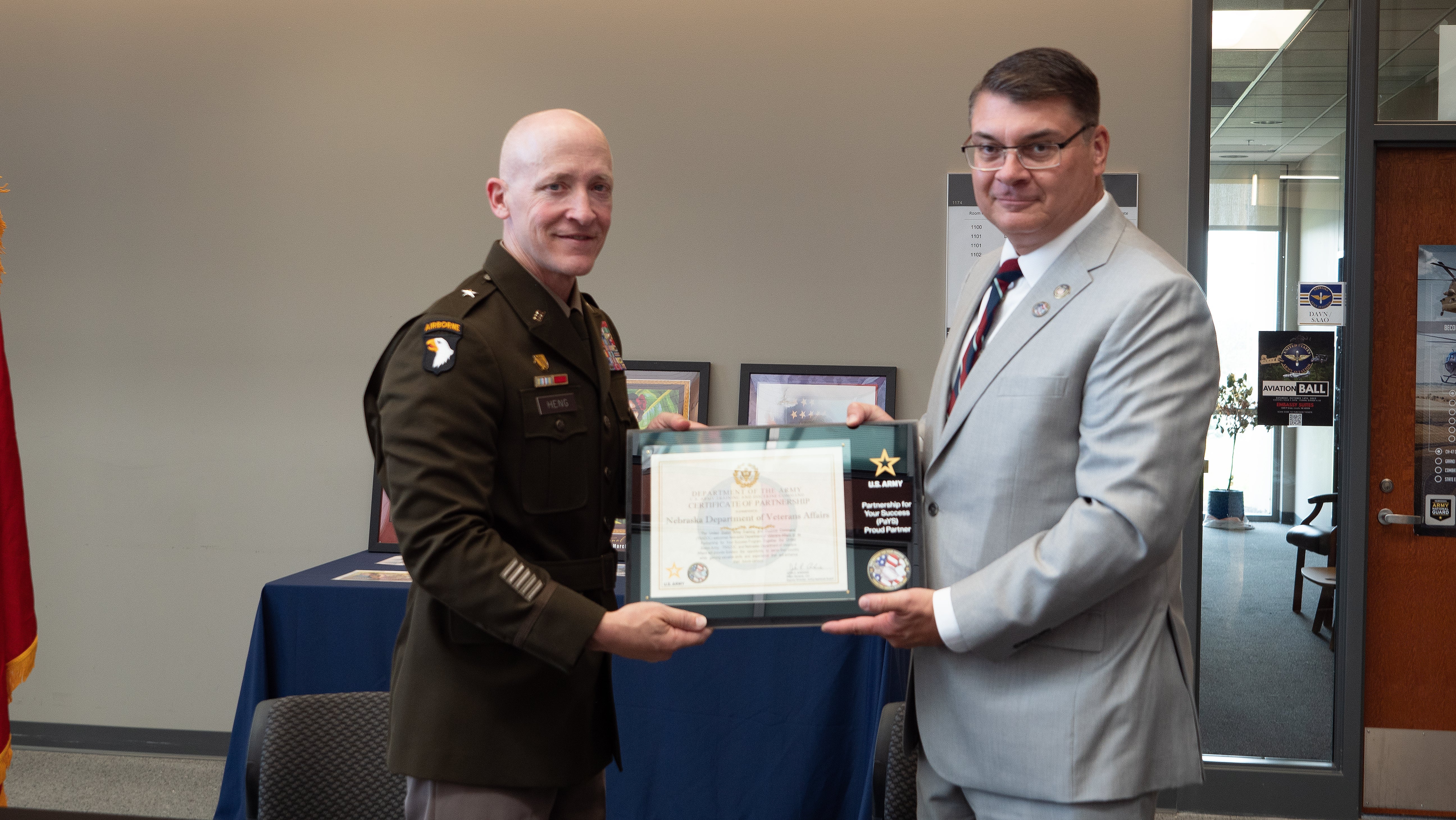 On Friday, August 18, Governor Jim Pillen joined the U.S. Army and the Nebraska Department of Veterans' Affairs (NDVA) as they signed a partnership agreement as part of the U.S. Army Partnership for Your Success (PaYS) program.
The PaYS program is a strategic partnership between the Army and a cross section of private industry, academia, and state and local public institutes. The U.S. Army PaYS program guarantees soldiers five job interviews and possible employment after their service in the Army and provides America's youth with the unique opportunity to simultaneously serve their country and prepare for their future.
"We want to provide the young people of Nebraska, especially our service members and veterans, with ample opportunities to stay in Nebraska as they start their careers," said Governor Jim Pillen. "The PaYS program will connect NDVA and the Army National Guard to do just that. It's a win-win for everyone involved, and I want to thank these two agencies for their commitment to promoting the Good Life."
The PaYS program is designed to help soldiers prepare for a career after the Army by connecting them with employers who understand the skills, discipline, and work ethic that military service members bring to a business. This program is part of a long-term U.S. Army effort to help soldiers forge professional relationships with businesses and encourage business owners to look to the Army as a plentiful and reliable recruiting source. Since PaYS began in 2000, more than 1200 employers have partnered with the program.
"This partnership not only allows us to assist our state's newest veterans in their transition back to civilian life, but it also offers our agency the opportunity to tap into a stream of highly skilled, motivated, and responsible men and women to join us in our mission of serving veterans," said NDVA Director John Hilgert. "We're excited to be part of the PaYS program and look forward to meeting with these young service members to help them in their career search here in Nebraska."
During the ceremony, which was held at Nebraska National Guard Joint Force Headquarters in Lincoln, NDVA Director Hilgert and Nebraska Army National Guard Assistant Adjutant General Brigadier General Lynn Heng signed a memorandum of understanding. "This program demonstrates the long-term investment that we make in young men and women of Nebraska when they choose to serve in our Army," said Brig. Gen. Heng.
Additional photos can be found here.
###

Click to view press release.