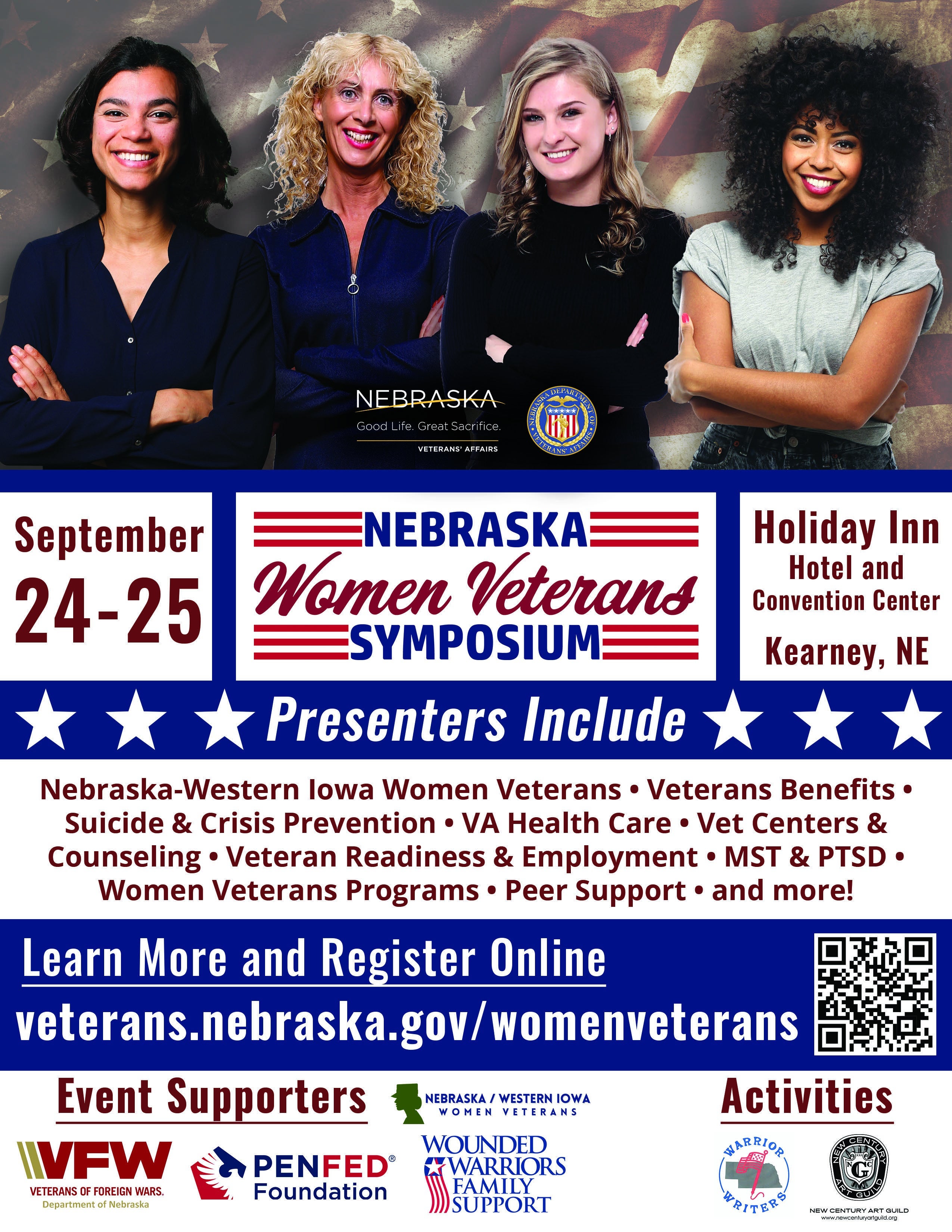 The Nebraska Department of Veterans' Affairs (NDVA) is hosting its Nebraska Women Veterans Symposium at the Holiday Inn in Kearney on September 24-25, 2022. The two-day event is free for attendees, with space for up to 200 women veterans to attend and participate in networking, listening sessions, presentations, special activities, and more.
"This has been a long time coming for the women veterans of Nebraska," said NDVA Women Veterans Coordinator Erin Colson. "As a veteran myself, I am very excited for this event and spending time with fellow women veterans. We are packing a lot into these two days, so there will be plenty of takeaways for everyone."
The keynote speaker will be Past National Commander of the American Legion Denise Rohan, who was the first woman to be elected to the top position of the American Legion. KSNB Local 4 Anchor Alissa Harrington will moderate a panel discussion titled "Celebrating Who I Was and Who I've Become," with leaders in the women veterans and military community discussing the struggles women veterans face both while serving in the Armed Forces and while transitioning out of the service.
"Our outreach team does an incredible job seeking out and working with veterans across the state, either hosting or participating in over 100 events each year," said NDVA Director John Hilgert. "This two-day symposium will have some great speakers, activities, and more, all focused on women veterans. What I'm looking forward to most is hearing from our state's women veterans on how NDVA can better perform its mission and better serve the women veterans of Nebraska."
The event will also feature special activities including a women veterans art exhibition and art exercise put on in partnership with the New Century Art Guild and Uniting Us, a journaling exercise with Warrior Writers, interviews for the Library of Congress Veterans History Project, and a screening of Lioness, a documentary about a group of female Army support soldiers who were part of the first program in American history to send women into direct ground combat.
Additional presenters include:
Nebraska/Western Iowa Women Veterans
Veterans Health Administration
Veterans Benefits Administration
Women Veterans Program Manager for Nebraska/Western Iowa VA Healthcare System
Homeless Veteran Coordinator
Vet Center
VFW Nebraska
American Legion Nebraska
HETRA
Hearts for Healing
New Century Art Guild
Uniting Us
Wounded Warrior Family Support
Wounded Warrior Project
Registration is available at veterans.nebraska.gov/womenveterans. Registration is open until the date of the event or when all 200 spots are filled. For questions about the event, please contact NDVA Women Veterans Coordinator Erin Colson at erin.colson@va.gov or 402-420-4337.
Financial support for the conference has come from Nebraska VFW Foundation and PenFed Foundation.
###

View press release.