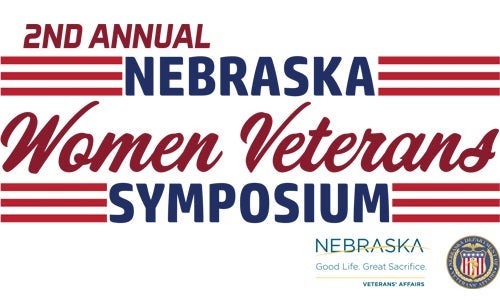 The Nebraska Department of Veterans' Affairs (NDVA) is hosting its second annual Nebraska Women Veterans Symposium at the Holiday Inn in Kearney on Saturday and Sunday, October 14th and 15th. The two-day event is free for Nebraska women veterans and will include presentations on veteran benefits, PTSD and trauma, and health care, as well as networking opportunities, roundtable discussions, special activities, and more. Early check-in and a social with games and snacks will take place Friday evening ahead of the symposium.
"These two days are all about Nebraska's women veterans and creating a safe space for them to tell their stories and get to know their peers across the state," said NDVA Women Veterans Coordinator Erin Colson. "We met so many amazing, powerful women warriors last year and the thing we kept hearing was, 'I didn't know there were so many of us.' What I'm most looking forward to is bringing together even more of these amazing women so NDVA can help support them and they can help support each other."
The symposium's keynote speaker will be Major General Wendy K. Johnson, who serves as Air National Guard Assistant to the Commander at Air Force Materiel Command, Wright-Patterson Air Force Base, Ohio. She previously served as Assistant Adjutant General-Air for the Nebraska National Guard in Lincoln and is from Elba, Nebraska. There will be a panel discussion: "Salute to Women Veterans and Their Service." The event will also feature special activities including art projects, writing exercises, games, and yoga.
"I'm excited for this year's symposium and growing what was built last year," said NDVA Director John Hilgert. "The atmosphere, the comradery, and the networking were something very special, and it went beyond simply sharing information. We're here to serve all of Nebraska's veterans and look forward to once again creating a space for women veterans to connect with each other while learning about benefits available to them."
Information on veteran benefits, services, and resources will be presented by:
Nebraska/Western Iowa VA (NWIVA) Healthcare System
NWIVA Women Veterans Program
Veterans Healthcare Administration
Veterans Benefits Administration
VA Center for Women Veterans
VA Homeless Program
Vet Center
NDVA
Registration is available at veterans.nebraska.gov/womenveterans and is open until the date of the event or when all available spots are filled. For questions about the event, please contact NDVA Women Veterans Coordinator Erin Colson at erin.colson@va.gov or 402-420-4337.
Financial support for the conference has come from Walmart, Lincoln Veterans Parade Group, Sandhills Global, and Hornady.
###

Click to view press release.