Buy a Vets Get Pets license plate and help veterans get pets!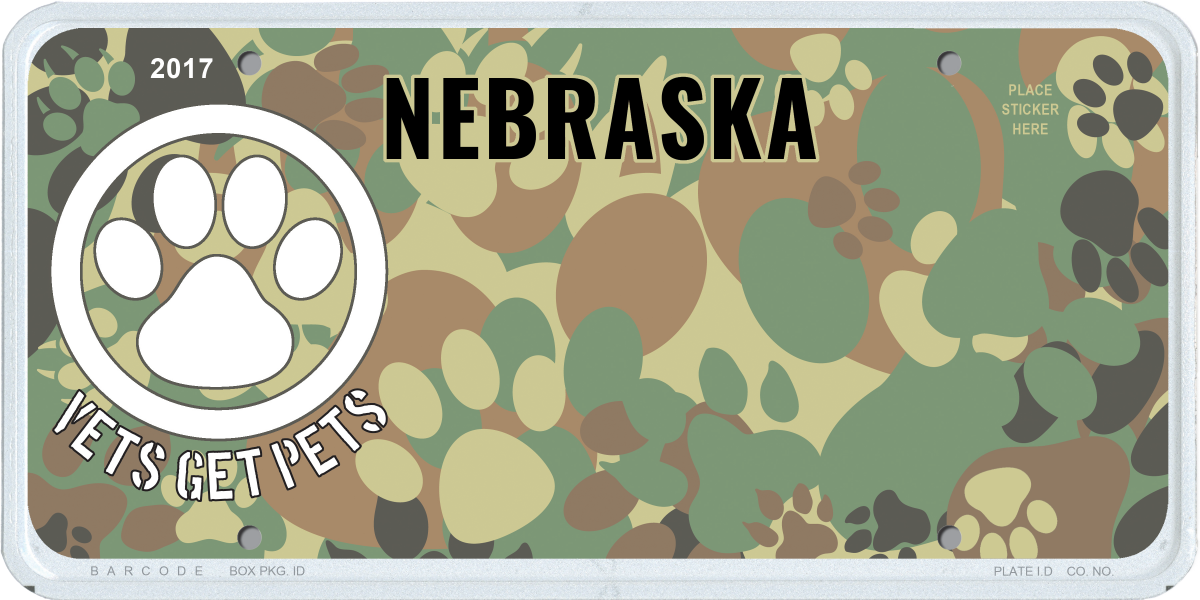 The new Vets Get Pets license plate is available to any Nebraska driver. Plates cost $5 for the alphanumeric version or $40 for the custom message version. Funds raised through the purchase of the plates will go towards reimbursing veterans' pet adoption fees.
Veteran Adoption Fee Reimbursement
Opens July 1, 2021, pending sufficient license plate sales. 
Program Requirements
You must be registered in the Nebraska Veterans' Registry to qualify for the Vets Get Pets program. Not registered yet? It only takes a few minutes! Register here.
The Vets Get Pets program will reimburse up to $350 in pet adoption fees for veterans. 
Animals must be adopted from an organization registered with the Nebraska Rescue Council. Click here for a list of rescues. 
Why Should Vets Get Pets?
A study done at two Department of Veterans Affairs outpatient clinics examining the benefits of canine companionship for veterans with PTSD found that overall the veterans who participated in the study helped them feel calmer, less lonely and depressed, and less worried about the safety of themselves and their families.[1] In addition, the CDC notes that studies have shown that owning a pet can lead to potential physical and mental health benefits such as increased opportunities for exercise and outdoor activities, and increased opportunities for socialization.[2] 
[1] Johnson, A. L., Pride, D., Donahue, D. A., Stern, S. L., Hatch, J. P., Allison, S., Peterson, A. L., Benson, T. A., Moreno, C., Jeffreys, M. D., & Lancaster, C. L. (2013). Potential benefits of canine companionship for military veterans with Posttraumatic Stress Disorder (PTSD). Society and Animals, 21(6), 568-581. https://doi.org/10.1163/15685306-12341286
[2] About Pets & People | Healthy Pets, Healthy People | CDC. (2019, April 15). Centers for Disease Control and Prevention. https://www.cdc.gov/healthypets/health-benefits/index.html