Buy a Vets Get Pets license plate and help veterans get pets!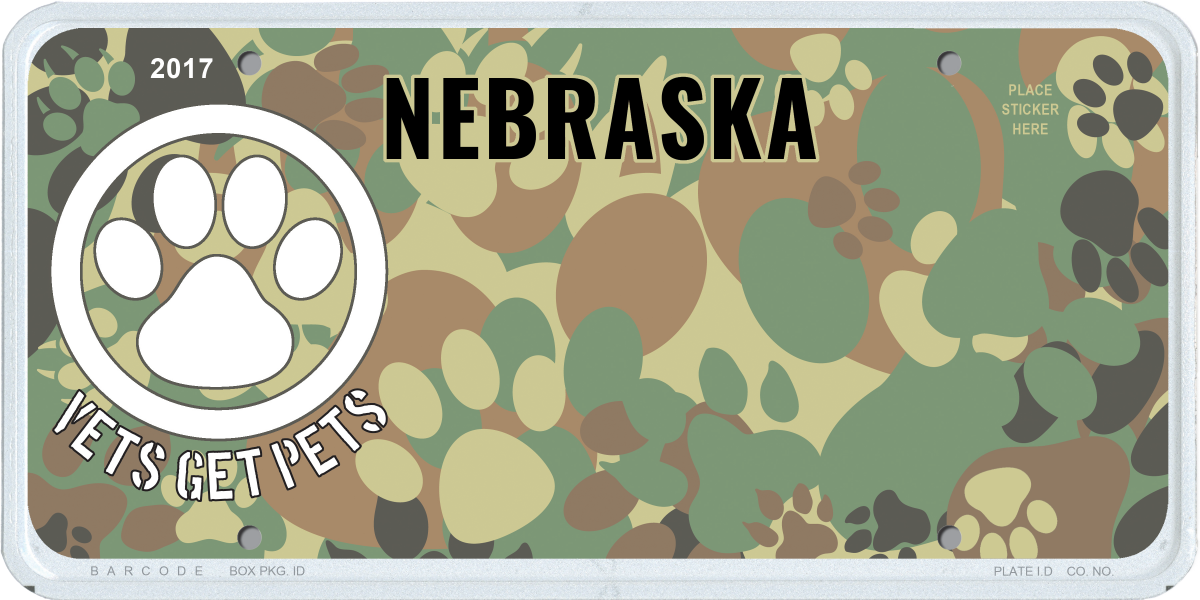 The Vets Get Pets license plate is available to any Nebraska driver. Plates cost $5 for the alphanumeric version or $40 for the custom message version. Funds raised through the purchase of the plates will go towards our veteran adoption fee program.
Veteran Adoption Fee Program
The Vets Get Pets program will disburse up to $350 to a qualifying rescue to cover a veteran's pet adoption fees. Limit one adoption per veteran.
Program Requirements
1. You must be registered in the Nebraska Veterans' Registry to qualify for the Vets Get Pets program. Register here if you haven't already.
2. Visit an authorized shelter/rescue organization to find a pet.
Animals must be adopted from an organization registered with the Nebraska Rescue Council. Click here for a list of rescues. 
3. Work with the shelter/rescue organization to submit an adoption preauthorization request to the Nebraska Department of Veterans' Affairs.
The adoption preauthorization request consists of:
An application for Vets Get Pets completed and signed by both the veteran and a representative of the shelter/rescue organization.   Download the Vets Get Pets Application
A current, itemized estimate from the shelter/rescue organization detailing the cost of the adoption
4. After receiving the authorization for adoption from the Nebraska Department of Veterans' Affairs, you can return to the shelter/rescue organization to finalize the adoption.
5. Work with the shelter/rescue organization to submit an itemized final billing statement to the Nebraska Department of Veterans' Affairs so payment can be processed.
6. (Optional) Send a photo of you and your pet adopted through the Vets Get Pets program to NDVA or share it on social media and use the hashtag #VetsGetPets!
Frequently Asked Questions
I am a veteran
Why am I not eligible for Vets Get Pets?
For the purpose of this program, veteran is defined as one who served on active duty other than for training with the US armed forces and had a discharge characterization of honorable or general (under honorable conditions).
I represent a shelter/rescue organization
We received an award notification, but we haven't received payment yet. What should I do?
Please allow 2-3 business days after the award notification for EFT payments to be transferred. If this time has passed and you have confirmed with your financial institution that the funds have not been deposited, please contact us immediately at (402) 471-2458 for further assistance.
If you are expecting a paper check to be mailed to you, there is a lost check waiting period of 10 business days from the date the check was mailed before the check will be cancelled and payment reissued. Please contact at (402) 471-2458 if this waiting period has passed and you still haven't received the check.
Why Should Vets Get Pets?
A study done at two Department of Veterans Affairs outpatient clinics examining the benefits of canine companionship for veterans with PTSD found that overall the veterans who participated in the study helped them feel calmer, less lonely and depressed, and less worried about the safety of themselves and their families.[1] In addition, the CDC notes that studies have shown that owning a pet can lead to potential physical and mental health benefits such as increased opportunities for exercise and outdoor activities, and increased opportunities for socialization.[2] 
[1] Johnson, A. L., Pride, D., Donahue, D. A., Stern, S. L., Hatch, J. P., Allison, S., Peterson, A. L., Benson, T. A., Moreno, C., Jeffreys, M. D., & Lancaster, C. L. (2013). Potential benefits of canine companionship for military veterans with Posttraumatic Stress Disorder (PTSD). Society and Animals, 21(6), 568-581. https://doi.org/10.1163/15685306-12341286
[2] About Pets & People | Healthy Pets, Healthy People | CDC. (2019, April 15). Centers for Disease Control and Prevention. https://www.cdc.gov/healthypets/health-benefits/index.html