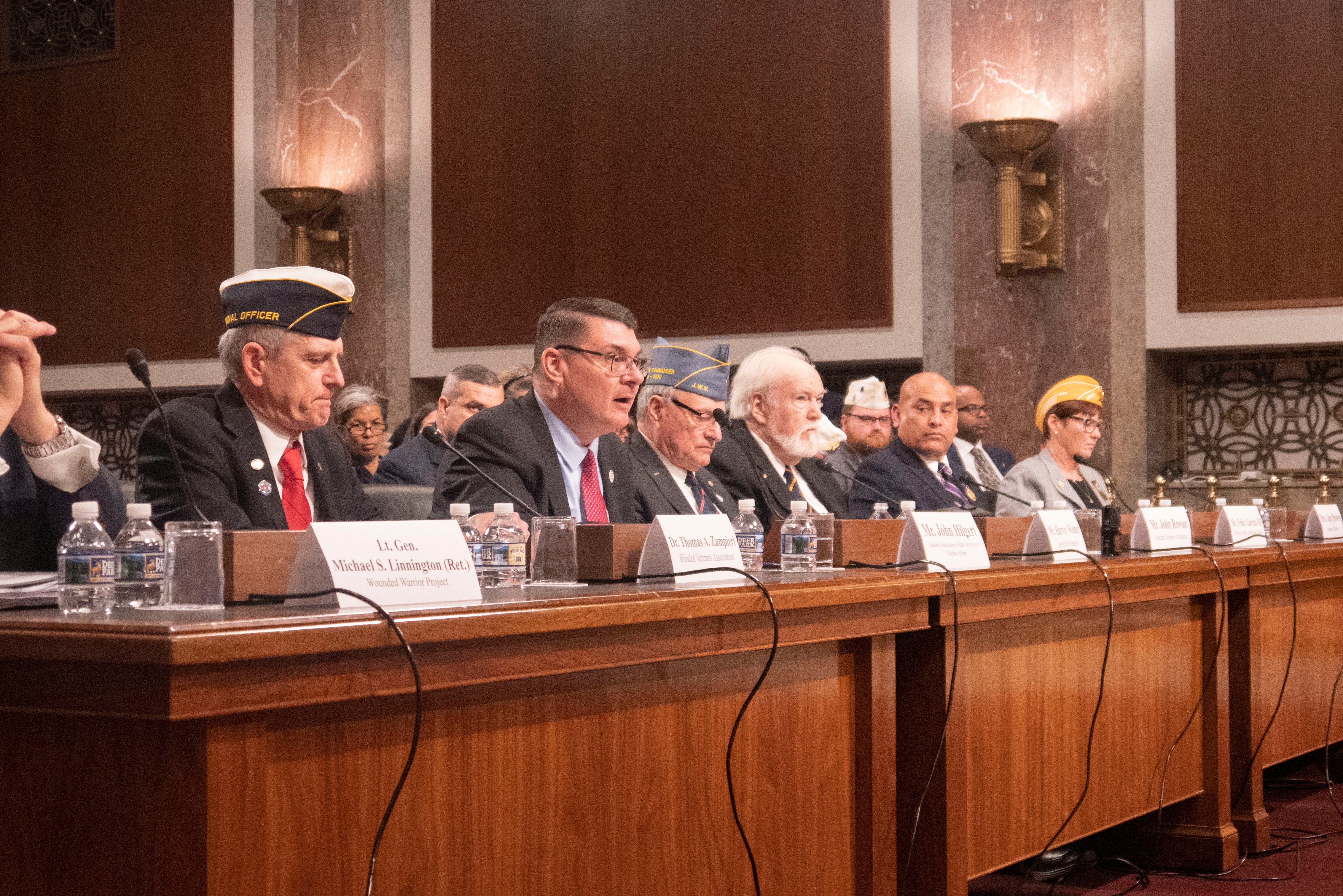 Nebraska Department of Veterans' Affairs (NDVA) Director John Hilgert testified before the House and Senate Committees on Veterans' Affairs in a joint hearing on Wednesday. He testified as president of the National Association of State Directors of Veterans Affairs (NASDVA) alongside leaders from other veterans service organizations (VSOs).
In his opening remarks, he spoke about VA funding, veterans' healthcare, state veterans homes, veterans benefits services, burial and memorial benefits, and transition assistance. "We [the states] work with the VA to deliver services and care to those who have served in uniform," he said. "We are expanding hubs and links to local communities. With your help and support, we can ensure veterans are adequately resourced and remain a priority. I would ask that you use us as a resource. Difficult challenges we address today are critical investments which become the foundation of our promise to serve those who have borne the battle."
U.S. Representative Mike Bost of Illinois' 12th district acknowledged VSOs' role in keeping the federal government informed on veterans' issues, and asked about the rollout of the Blue Water Navy Vietnam Veterans Act of 2019, which went into effect at the start of this year. The act extended benefits for conditions related to herbicide exposure for veterans who served within 12 nautical miles of the shore of Vietnam.
"We anticipated and we actually started processing—as soon as possible—claims for Blue Water Navy," said Director Hilgert. "The states, and I know working with the counties, are in a great position to reach out to those veterans who have been waiting, identifying Vietnam veterans, and to make sure that we are there for them. Our resources are small, generally speaking, throughout the country, but I could say that it's very brisk, and we are reaching out."
Veterans and their family members who would like to learn more or file a Blue Water Navy claim can call VA's toll-free number at 800-827-1000 or visit the VA Blue Water Navy Agent Orange website, contact their County Veteran Service Officer (directory available here), or reach out to NDVA's State Service Office at 402-420-4021.
When asked about transition assistance programs, Director Hilgert spoke about Nebraska's use of Department of Defense information to reach out to discharging service members, offer them relevant benefits, and invite them to a Welcome Home Picnic with the governor, among other things. U.S. Representative Gil Cisneros of California's 39th District, said "I applaud the efforts of Nebraska." He went on to explain, "Different states have different benefits for each veteran when they return home, and we want to make sure that they have the knowledge when they settle in that state of what those benefits are going to be."
The House and Senate Committees on Veterans' Affairs hear testimony from leaders of veterans service organizations each year. More information on the committees is available at veterans.house.gov and veterans.senate.gov.
A recording of the testimony can be found on the House Committee of Veterans' Affairs' YouTube channel here.
Director Hilgert's Opening Statement is at 1:18:25.
###

View Press Release