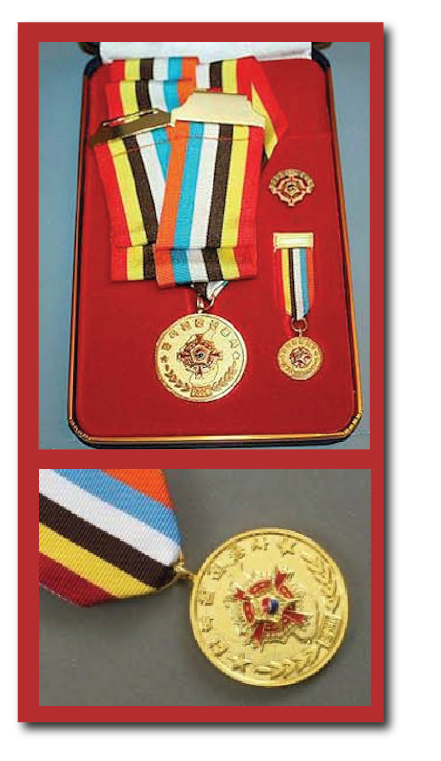 Korean War Veterans Armistice Day is July 27th, and this year marks the 65th anniversary of the end of the Korean War. To celebrate this occassion and honor the Nebraskans who served in Korea, Governor Ricketts will be hosting a special event at the Capitol to honor Korean War Veterans with Ambassador for Peace Medals. 
The medals were created by the Ministry of Patriots and Veterans Affairs in the Republic of Korea to thank American soldiers for their bravery, sacrifice, and courage in the Korean War and as peacekeepers afterwards. 
Request a Medal
Nebraska Korean War Veterans who wish to receive an Ambassador for Peace medal for their service in Korea can complete the form below and submit it to the Nebraska Department of Veterans' Affairs by June 29th, 2018.
Eligibilty
To be eligible for the medal, you must have either:
Served in Korea at some time between June 25th, 1950, to July 27th, 1953, -or-
Participated in UN peacekeeping operations in Korea before January 1st, 1956
Form


Ambassador for Peace Medal Application Form
Right-click and save as if you have trouble submitting the form in your browser.
Submit your completed form by email to ndva@nebraska.gov or by mail (with a copy of your DD214) to 
Nebraska Department of Veterans' Affairs
RE: Korean War Veterans Armistice Day
301 Centennial Mall South
Lincoln, NE 68508
To receive your medal at the State of Nebraska ceremony, you must submit your request no later than June 29th, 2018. 
For veterans in states other than Nebraska, please contact your state's Veterans' Affairs agency to find out about obtaining a medal.