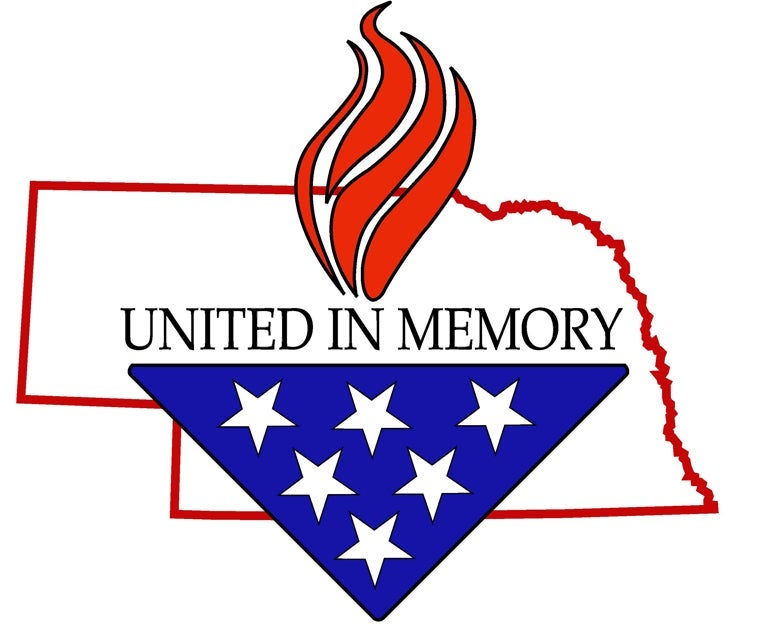 The Eternal Flame symbolizes that Nebraskan's will never forget the sacrifices made by it's veterans and military family members.
The folded burial flag is positioned as an origin of the eternal flame. This represents that the sacrifice of Nebraska Veterans will always be remembered. In addition, the flag is positioned in the same way the Military Honors Team holds the flag during Military Honors ceremonies; it is close to the heart. In this case, the heart of Nebraska, as if to say, "This flag is presented on behalf of a grateful nation and the State of Nebraska as a token of appreciation for your loved one's honorable and faithful service."
The motto "United in Memory" expresses that Nebraska recognizes the contributions of all veterans. As well, their final resting place unites veterans of all generations.
The State of Nebraska has a white background to symbolize the honor owed to all veterans that have served our nation.
The State of Nebraska is outlined in red to represent the blood shed by Nebraska Veterans to protect our nation's freedom.
The stars of the folded burial flag represent the 5 branches of the U.S. Military, which are Army, Navy, Air Force, Marines, and Coast Guard. The 6th star is to honor the families who have lost loved ones to war.