Protecting the health and safety of the residents who call our facilities home, as well as the teammates who serve them, is NDVA's top priority. Below is information on what is happening at each of our four homes related to COVID-19. For questions, please contact the facility your loved one resides in directly.
Weekly Update
These numbers are updated each week on Monday morning (Tuesday in the event of a holiday). 
| | CNVH | ENVH | NVH | WNVH |
| --- | --- | --- | --- | --- |
| Positive Members | 0 | 0 | 0 | 1 |
| Positive Teammates | 2 | 0 | 1 | 4 |
| County Transmission Rate | High | High | High | High |
​Visitation
As COVID cases in our communities fluctuate, testing and PPE requirements at the facilities may change. If you have questions, please contact the facility prior to your visit to find out what safety measures are in place. 
All four homes currently offer in-person visits with members. Visitors are required to wear a mask while in the facility and are asked to complete a short screening upon arrival. Community transmission rates determine if testing is recommended as part of the screening form for visitors whose vaccination status is not up to date (see table below). Visitors who decline testing will be asked to wear a facility-provided KN95 mask during their time in the facility. 
| Community Transmission Rate | Testing Frequency for those not up to date |
| --- | --- |
| Low | No routine testing |
| Moderate | Once per week |
| Substantial/High | Twice per week |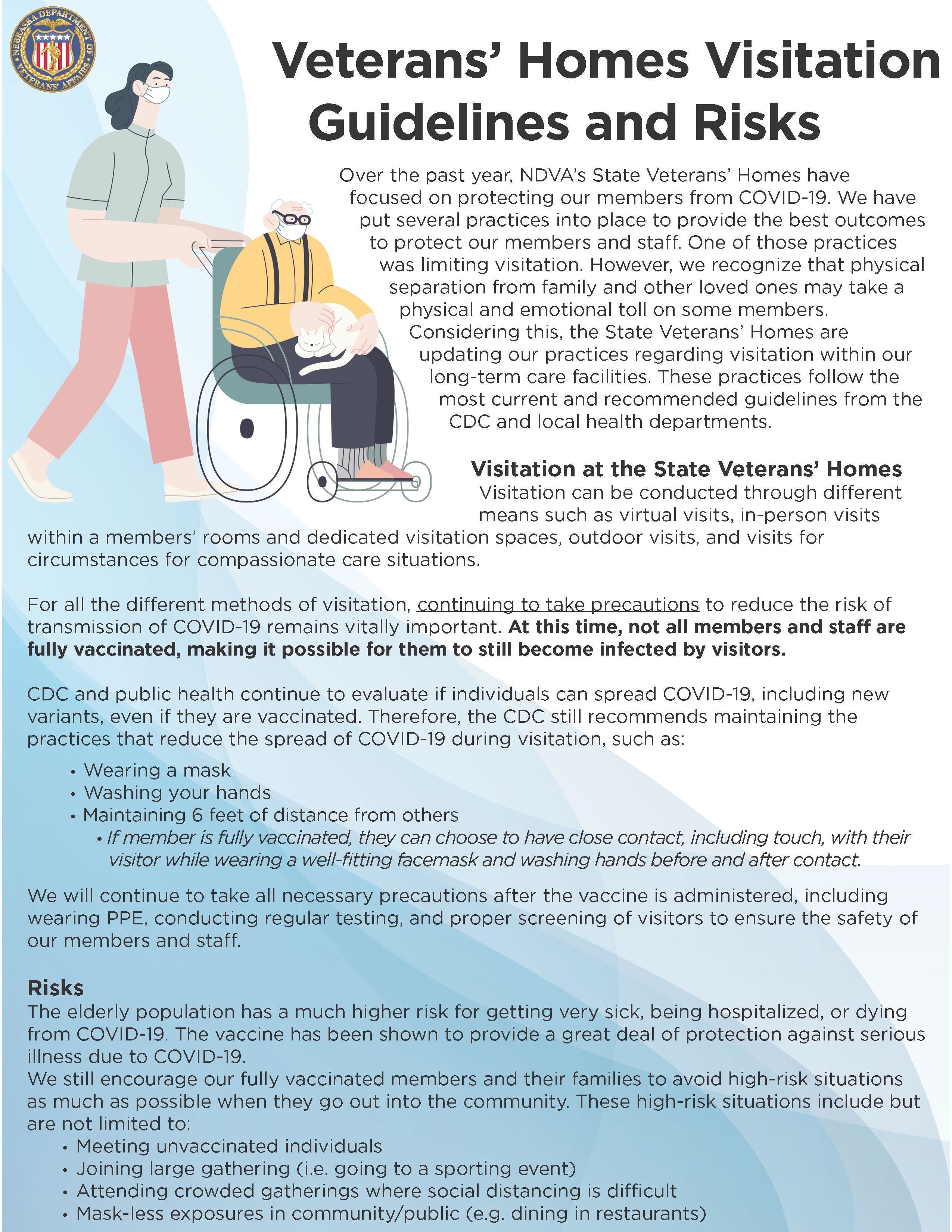 If you plan on bringing a large group, please notify the facility ahead of time to ensure our team is prepared for your arrival. If you have any questions about visitation guidelines, current county transmission rates, scheduling a visit, or anything else, please don't hesitate to contact the facility directly.
We have put together some information on visitation guidelines and risks. Click here to view.
Schedule a visit today:
Central Nebraska Veterans' Home - call 308-865-6000
Eastern Nebraska Veterans' Home - call 402-595-2180
Norfolk Veterans' Home - call 402-370-3330
Western Nebraska Veterans' Home - call 308-641-6727 or 308-632-0321
Virtual visits are still available for those who cannot come to the facility in person. To set up a virtual visit, please contact the Virtual Visitor liaison at the facility where your loved one lives. They can schedule an appointment and help you set up Skype on your computer, tablet, or phone. We also have this How to Use Skype Guide available.
Contacts for Virtual Visits setup for each veterans home

| | | |
| --- | --- | --- |
| Central Nebraska Veterans' Home | Jessica Modlin | 308-865-3568 |
| Eastern Nebraska Veterans' Home | Sarah Ryan | 402-591-4862 |
| Norfolk Veterans' Home | Elaine Wessendorf | 402-370-3432 |
| Western Nebraska Veterans' Home | Kilee Oliverius | 308-632-0321 |
Steps We're Taking to Protect Our Members
Our veterans' homes follow guidance from DHHS based on the latest guidance and recommendations they have received from the Centers for Disease Control and Prevention (CDC) and Infection Control and Assessment Promotion Program (ICAP). Some of the precautions in place at the facilities include:
Screening of all teammates and visitors upon entry, including temperature reading.
Masking when in member areas or around visitors or other teammates and additional PPE requirements if county transmission rates are high.
Testing of members in the event of symptoms or exposure and for teammates based on community transmission rates
We encourage all teammates to get the COVID-19 vaccine, and vaccination clinics have taken place at all four homes to provide members and teammates the opportunity to be vaccinated. We are proud to have a system-wide vaccination rate above the national average for long-term care facilities!
Volunteer Opportunities
Throughout the pandemic, entry to the facilities has been limited, including to volunteers. We have heard from countless volunteers who want to come back in and serve our veterans and have heard from members who miss having those volunteers in the homes. We are extremely excited to currently be able to offer volunteer opportunities at all four veterans homes, provided volunteers have completed our current volunteer training program. If you are interested in volunteering, please contact the home directly to see what opportunities are available.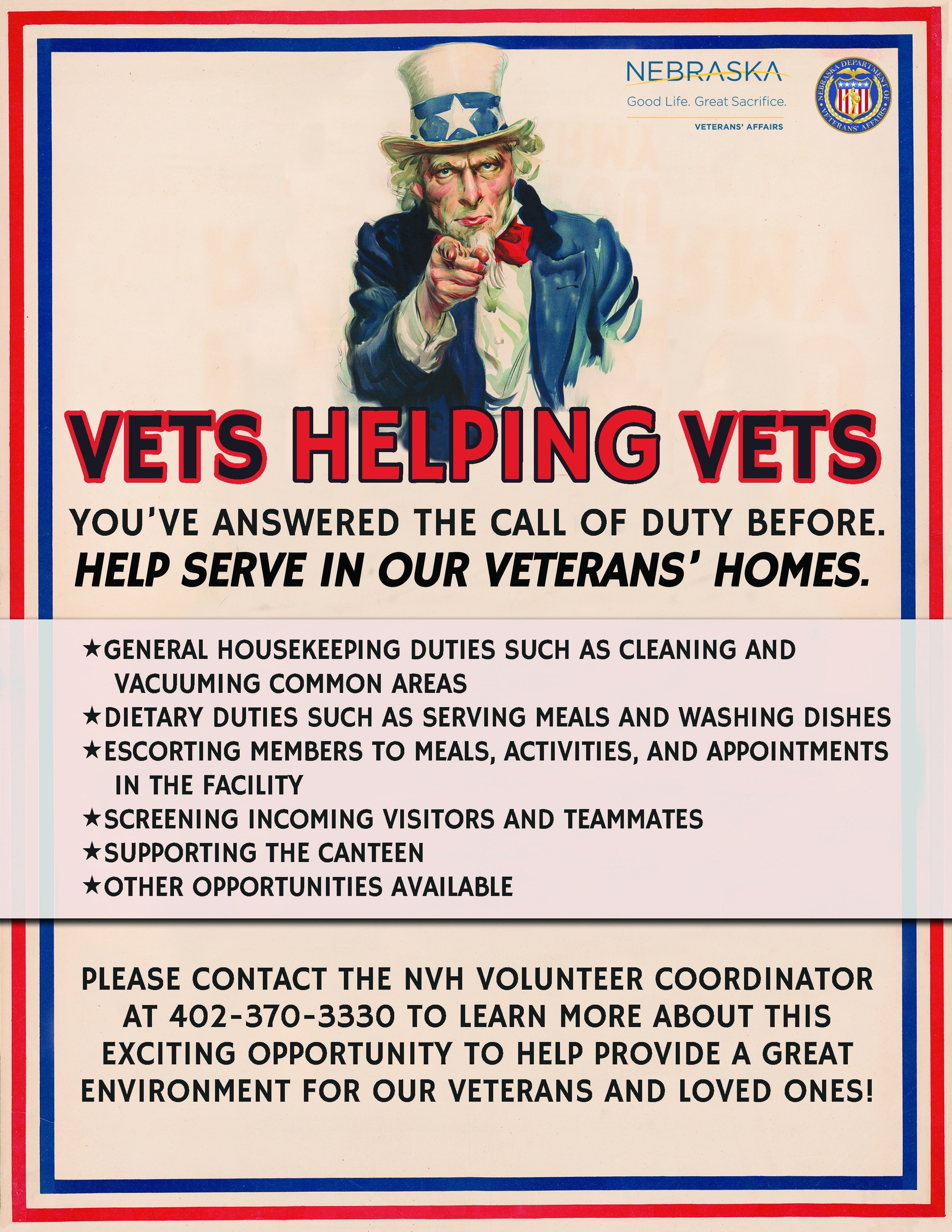 In addition, veterans service organizations have reached out to see what they can do to help our teammates who have been battling COVID-19 throughout the course of the pandemic. We've developed a Vets Helping Vets program to offer opportunities to those who want to help serve in our homes in additional volunteer capacities and appreciate the comradery of our fellow Nebraskans. Volunteer information flyers for each home are available below. 
​
Thank you to Our Frontline Workers
Coping with Stress During COVID-19
In addition to the infection control precautions we're taking at our facilities, we're working to reduce anxiety among our residents. To that end, we have put together member education on Coping with Stress During COVID-19.