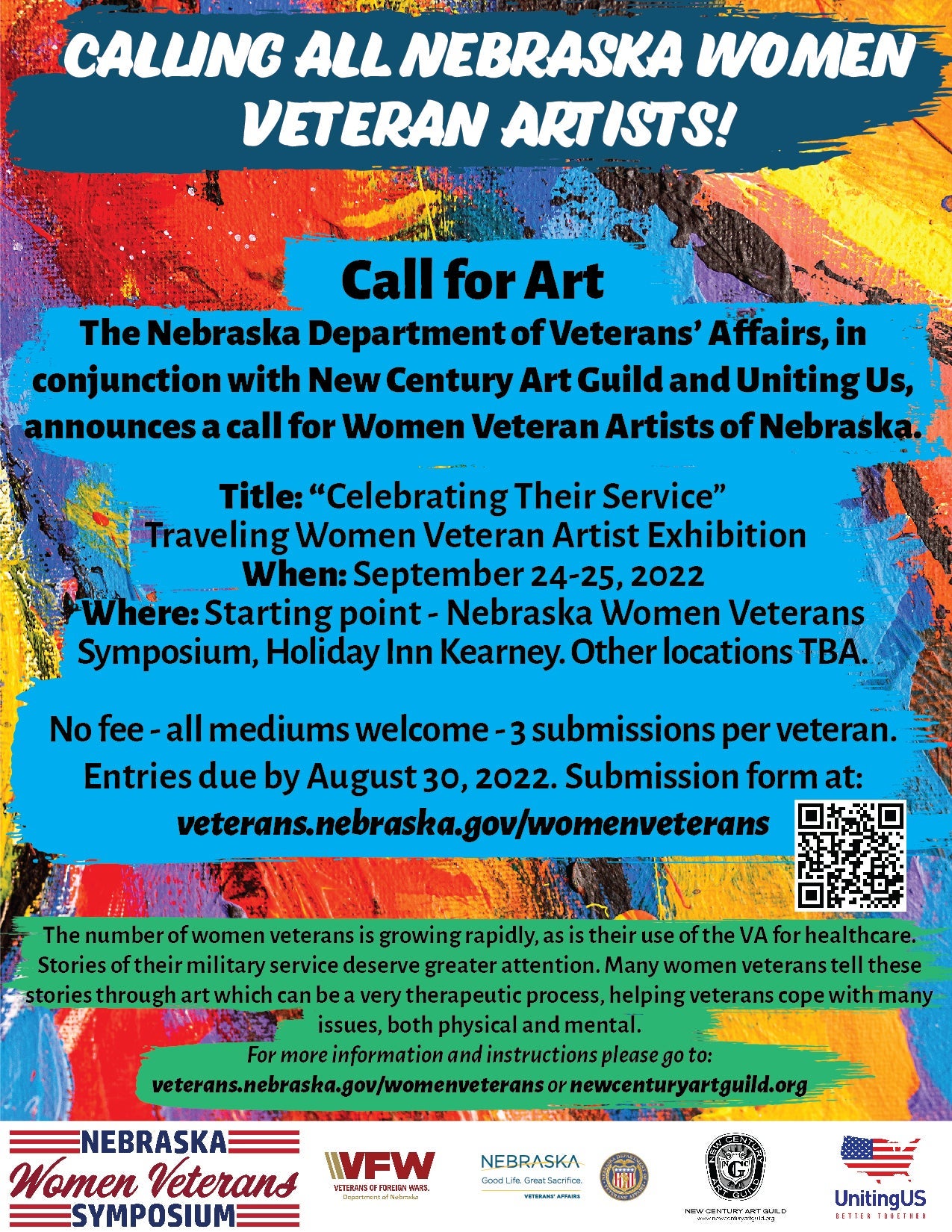 The Nebraska Department of Veterans Affairs, in conjunction with New Century Art Guild and Uniting Us, announces a call for Women Veteran Artists of Nebraska. The number of women veterans is growing rapidly, as is their use of the VA for healthcare. Stories of their military service deserve greater attention, and many women veterans tell these stories through art which can be a very therapeutic process, helping veterans cope with many issues, both physical and mental.
No fee - all mediums welcome - 3 submissions per veteran. Submissions due by August 30, 2022.
Title: "Celebrating Their Service" Traveling Women Veteran Artist Exhibition
When: September 24-25, 2022
Where: Starting point at the Nebraska Women Veterans Symposium at the Holiday Inn Kearney. Other travel locations TBA
All artwork is the responsibility of the artist to make it to the exhibition in Kearney on September 24-25, 2022. If you are not planning on attending the symposium that weekend, you can coordinate with Erin Colson at NDVA or Troy Muller at New Century Art Guild (contact info below) for possible pickup depending on location. If you are attending the symposium, please bring your artwork with you. This is a traveling exhibition, so after the symposium the artwork will be traveling around the state of Nebraska (locations to be announced). As of right now, one selection will be made from each artist. Depending on the response from women veteran artists, more than one piece may be chosen. There is no theme, but remember we are honoring women veterans and their service at this event. Please refrain from including artwork with blatant nudity or vulgar language; if this is an issue, please contact Erin Colson at erin.colson@va.gov or Troy Muller at TMuller@newcenturyartguild.org.